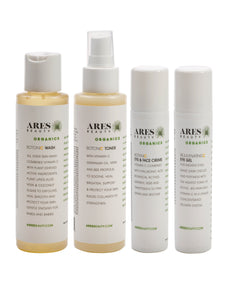 Step Up Your Skincare Game with Our Organic Skin Care Quattro Set
Experience the essence of organic skincare with the Ares Beauty Organic Skin Care Quattro Set. This comprehensive skincare set brings together five of our top-rated organic products, each meticulously formulated with nature's finest Botonicals to elevate your skincare routine and reveal your skin's natural glow.

Free Shipping on All Orders Over $39

What's Included in the Organic Skin Care Quattro Set?

Revitalizing Face Serum: A potent serum that hydrates, nourishes, and revitalizes your skin for a radiant appearance.

Nourishing Face Cream: A luxuriously rich cream that deeply moisturizes and protects your skin from harmful environmental stressors.

Gentle Cleansing Gel: A soothing gel cleanser that effectively removes dirt and impurities while calming the skin.

Refreshing Toner: A balancing toner that refreshes, hydrates, and prepares your skin for the rest of your skincare routine.

Rejuvenating Eye Gel: An invigorating gel that hydrates and refreshes the eye area, reducing puffiness and signs of fatigue.
Benefits of the Organic Skin Care Quattro Set:
Organic & Natural Ingredients: Infused with a powerful blend of organic Botonical extracts and essential oils.

Comprehensive Skincare: Provides a holistic approach to skincare, addressing hydration, nourishment, cleansing, toning, and eye care.

For All Skin Types: Gentle and effective formulas suitable for sensitive, oily, dry, or combination skin.

Sustainable & Cruelty-Free: Packaged with respect for the environment and never tested on animals.
How to Use
Cleanse your face with the Gentle Cleansing Gel.

Apply the Refreshing Toner to balance and prepare your skin.

Use the Revitalizing Face Serum to hydrate and nourish your skin.

Apply the Rejuvenating Eye Gel around your eyes.

Finish with the Nourishing Face Cream to lock in moisture and protect your skin.
Customer Reviews
"The Organic Skin Care Quattro Set is a game changer! It's everything my skin needed and more." - Jessica L.

"I'm in love with these products. My skin feels so healthy and looks radiant." - Mike D.

Discover More from Ares Beauty
Browse our broad range of organic skincare products, cosmetics, organic bath & body, and after-sun care.

Connect with Us
Follow Ares Beauty on Facebook and Instagram for the latest updates, skincare tips, and exclusive offers.