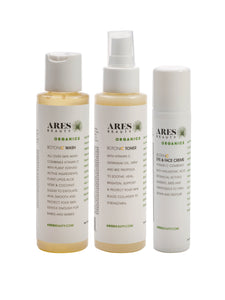 Unlock the Secrets of Nature with the Organic Skin Care Trio
Elevate your daily skincare routine with the Ares Beauty Organic Skin Care Trio. This exclusive set features three of our premium organic skincare products, meticulously crafted to nurture, revitalize, and protect your skin. Harness the power of nature's finest Botonicals and experience unparalleled radiance and rejuvenation.

Free Shipping on All Orders Over $39

What's Included in the Organic Skin Care Trio?

Revitalizing Face Serum: A concentrated serum that hydrates and nourishes, leaving your skin visibly plump and radiant.
Nourishing Face Cream: A rich cream that deeply moisturizes and protects your skin from environmental stressors.
Gentle Cleansing Gel: A refreshing gel cleanser that effectively removes impurities while soothing the skin.
Benefits of the Organic Skin Care Trio:

Natural Ingredients: Formulated with a blend of organic Botonical extracts and essential oils.
Holistic Skincare: Addresses multiple skin concerns including hydration, nourishment, and protection.
Suitable for All Skin Types: Gentle formulas that work for sensitive, oily, dry, or combination skin.
Sustainable & Ethical: Environmentally conscious packaging and cruelty-free.
How to Use

Start with the Gentle Cleansing Gel to cleanse your face.
Apply the Revitalizing Face Serum to your face and neck.
Finish with the Nourishing Face Cream to lock in moisture.
Customer Reviews
"The Organic Skin Care Trio has transformed my skin! The natural ingredients are amazing." - Sarah T.

"I love how the trio covers all the bases - cleansing, serum, and moisturizer." - Alex K.

Discover More from Ares Beauty
Explore our wide range of organic skincare products, cosmetics, organic bath & body, and after-sun care.

Connect with Us
Follow Ares Beauty on Facebook and Instagram for the latest updates, skincare tips, and exclusive offers.