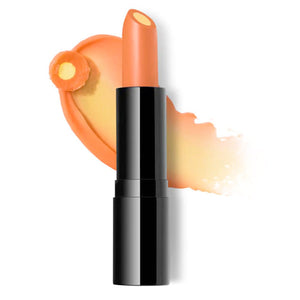 Revitalize your daily lip care routine with Ares Beauty's Vitamin C Lip Treatment, an intensive healing solution that delivers sheer coverage and optimal hydration. Infused with brightening Vitamin C and soothing Vitamin E, this lip treatment not only smooths and soothes lips but also helps prevent dryness and chapping. Experience the nourishing power of Jojoba & Avocado Oils and embrace your lips' natural health.
Free Shipping on All Orders Over $39
What's Included in the Vitamin C Lip Treatment?
The Vitamin C Lip Treatment: A core stick lip balm that comes with intensive healing properties. Designed to lubricate and smooth dry, chapped lips while letting your lips' natural texture shine through.
Benefits of the Vitamin C Lip Treatment:
Natural Ingredients: The lip treatment is formulated with a blend of Jojoba & Avocado Oils, Vitamin E, and Vitamin C.
Intensive Healing: Our Vitamin C Lip Treatment ensures the right amount of coverage, soothing dryness and chapping while allowing the lips' natural texture to be enhanced.
Universal Appeal: It is suitable for all skin types and offers optimal hydration and sheer coverage.
Ethical and Safe: Our products are not tested on animals, vegan, Prop 65 compliant, and free from parabens, fragrance, alcohol, barley, corn, oats, rye, soy, spelt, and wheat.
How to Use:
Apply the Vitamin C Lip Treatment directly onto the center of your lips, blending outwards. It can be used alone or over your favorite lipstick for added nourishment and shine.
Customer Reviews:
"I have tried numerous lip balms but nothing compares to Ares Beauty's Vitamin C Lip Treatment! It's deeply nourishing yet feels incredibly light on the lips. Loved how it healed my dry, chapped lips. The quality ingredients truly make a difference! I'm hooked! A small amount goes a long way! Try it, you will see!" - Jessica, May 15, 2023
Discover More from Ares Beauty:
Explore our wide range of organic skincare products, cosmetics, organic bath & body, and sun care products.